---
Trusted by more than 30,000 retail professionals across North America
---

Create schedules faster, reduce labor costs, and enhance the employee experience
Scheduling your retail stores can be complicated and time-consuming. Managing employee unavailability, vacation, sick days, and overtime limitations can turn employee scheduling into a major headache.
Shiftlab retail scheduling software's data-driven and automated scheduling features make the process much easier! Ensuring that every shift is covered while considering requested time off, employee availability, overtime compliance and budgets.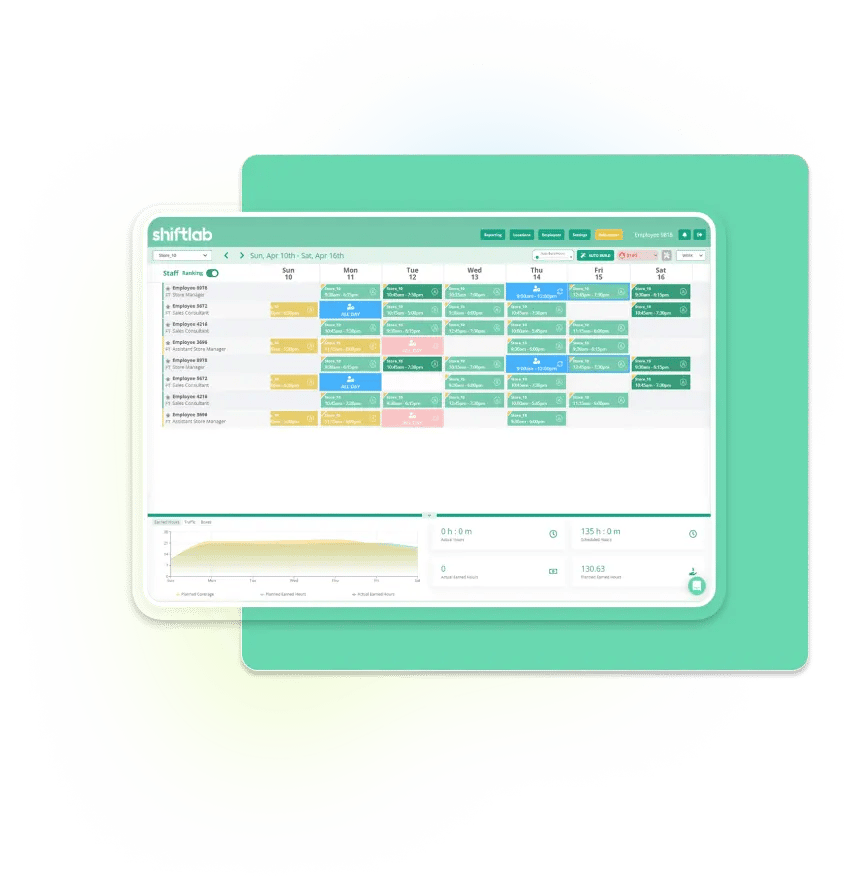 The Power of Automation
How do we create schedules that are compliant and optimized for sales with one click?
Here's a closer look at everything we factor into our scheduling automation: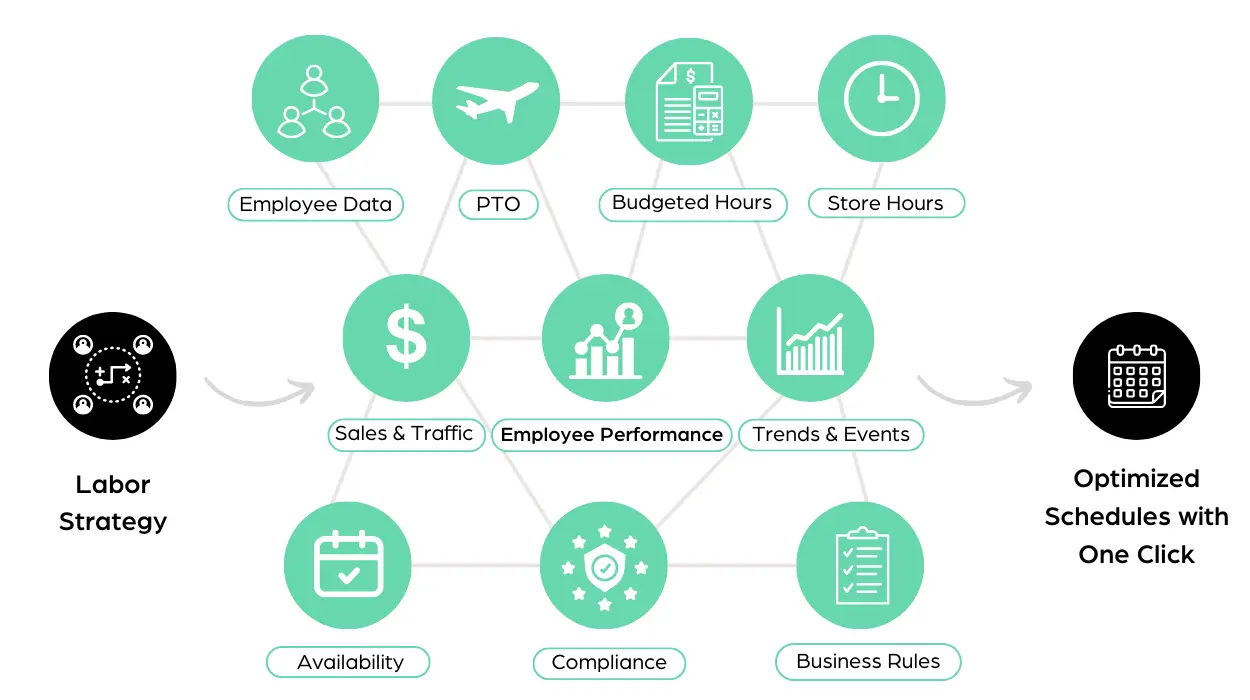 Trusted by more than
30,000

retail professionals across North America
"Shiftlab makes putting the right people on at the right time an incredibly insightful, yet simple process. The program has helped our business tighten up labour costs, improve scheduling behaviours and given us a positive ROI. The support from the Shiftlab team has been best in class since day one and they are willing to work with us to develop the program even further, to meet our business needs. I would highly recommend the Shiftlab platform to support your team scheduling".
"Our decision to partner with Shiftlab was a no-brainer as a fast growing business. One of the biggest challenges we faced was keeping up with the front line labor force and their ever changing needs. Shiftlab has been a critical tool to our success since adopting the program early this year"
"Our decision to partner with Shiftlab was a no-brainer as a fast growing business. One of the biggest challenges we faced was keeping up with the front line labor force and their ever changing needs. Shiftlab has been a critical tool to our success since adopting the program early this year"
Shiftlab Scheduling
Frequently Asked Questions
Have a question? We are here to help
What is Retail Scheduling Software?
Retail scheduling software is a tool for retail leaders and managers to streamline and optimize the employee scheduling process.

One of the reasons managers prefer retail scheduling software over manual scheduling is that it saves time. Another big reason is that scheduling software enables you to be more strategic with scheduling than doing it manually. Automated scheduling solutions take into account employee availability, compliance, store hours, skill sets and more to create schedules that are sales optimized and compliant within minutes.
How Does Retail Scheduling Software Work?
With automated retail scheduling software, managers can make schedules quickly from their phones, tablets or computers.
Automated schedules factor in labor laws and compliance, pre-determined scheduling rules and employee availability to create an optimized schedule. Once published, all employees are notified of the upcoming schedule and reminded of upcoming shifts.
Some retail scheduling apps come with a time clock to accurately track employee time and attendance and streamline payroll. As employees clock in and out, the data can be exported to payroll, eliminating human errors and significantly cutting down on wasted time and overpay.
What to Look for in a Retail Scheduling Software Solution
The best retail scheduling tools include the following features:
Scheduling Automation: Look for employee scheduling software that does all the heavy lifting for you. Automated scheduling solutions enable your managers to create schedules optimized for both employees and guests, all with a single click. Choose a solution that integrates with your Point of Sale, Traffic and HRIS and uses that data to schedule your reps at ideal times to maximize your ROI.


Performance-Based: A scheduler that takes into consideration employee performance helps to create schedules that are optimized for sales and help retailers increase sales by placing top performing employees in prime shifts. This also has a significant impact on guest experience.


Retail Focused: Retail employee scheduling is unique and complex. Look for a scheduling solution that is built specifically for retail and that creates schedules with both the employee and guest experiences in mind.


AI-Driven Forecasting: A crucial piece to creating effective schedules is being able to predict demand. Look for a retail scheduling solution that offers AI-powered demand forecasting that takes into consideration historical sales, traffic, event effects and weather to accurately predict demand and ensure you have the right number of people scheduled at the right times.


Retail-Time Data and Alerts: Managers should receive access to real-time data and notifications around trending OT, budget, stores opening on time and shift compliance.


Compliance Management: Look for a retail scheduling solution that helps streamline and automate compliance.


Mobile-Access: Make it easy for employees to view and manage their schedules, submit time off request and keep in touch with a mobile app


Integration with POS, Traffic and Payroll: To streamline operations, retail scheduling software should integrate with your POS, traffic and payroll solutions.


Reporting: The best retail scheduling software allows you to analyze and track labor trends with dashboards and reporting.


Time tracking: An employee time clock accurately tracks retail employees' hours and helps manage shift compliance.


Biometrics: Tracking hours isn't enough. Look for a retail scheduling software that comes with Biometrics to ensure employees are clocking in once they've actually arrived at work.


Ability to handle floating employees: The scheduling software should be able to handle employees who can be assigned to multiple stores depending on the needs from day to day.


Oversight on overtime: The software should provide clear oversight as to which employees are working approved overtime.


Ease of use: The scheduling software should be intuitive for both management and employees to set up and use.


Benefits of Retail Scheduling Software
There are numerous benefits that come with using retail scheduling software in your store. These include:
Efficient and faster scheduling: Retail scheduling software automates and optimizes the scheduling process. Managers can create schedules based on multiple factors like staff availability, performance, and preference in way less time than it would take to do manually. This cuts down on retail managers workloads and ensures that the right number of retail workers are scheduled at all times.


Increased Sales: Retail scheduling software that factors in employee performance helps to increase revenue by placing top-performing employees in prime sales shifts.


Reduced labor costs: When you create schedules that factor in forecasted demand, labor costs are optimized as you'll never over staff or under staff.


Employee Engagement: Digital scheduling means retail workers have access to their schedules directly from their phones at any time. This way, they're always aware of when they're expected to work.


Enhanced transparency: Managers have oversight over scheduling gaps, overtime trends, budget tracking and compliance issues.


Flexible Retail Platform
Shiftlab seamlessly integrates your POS, Traffic, and Time Clock data into a single system.
Explore Integrations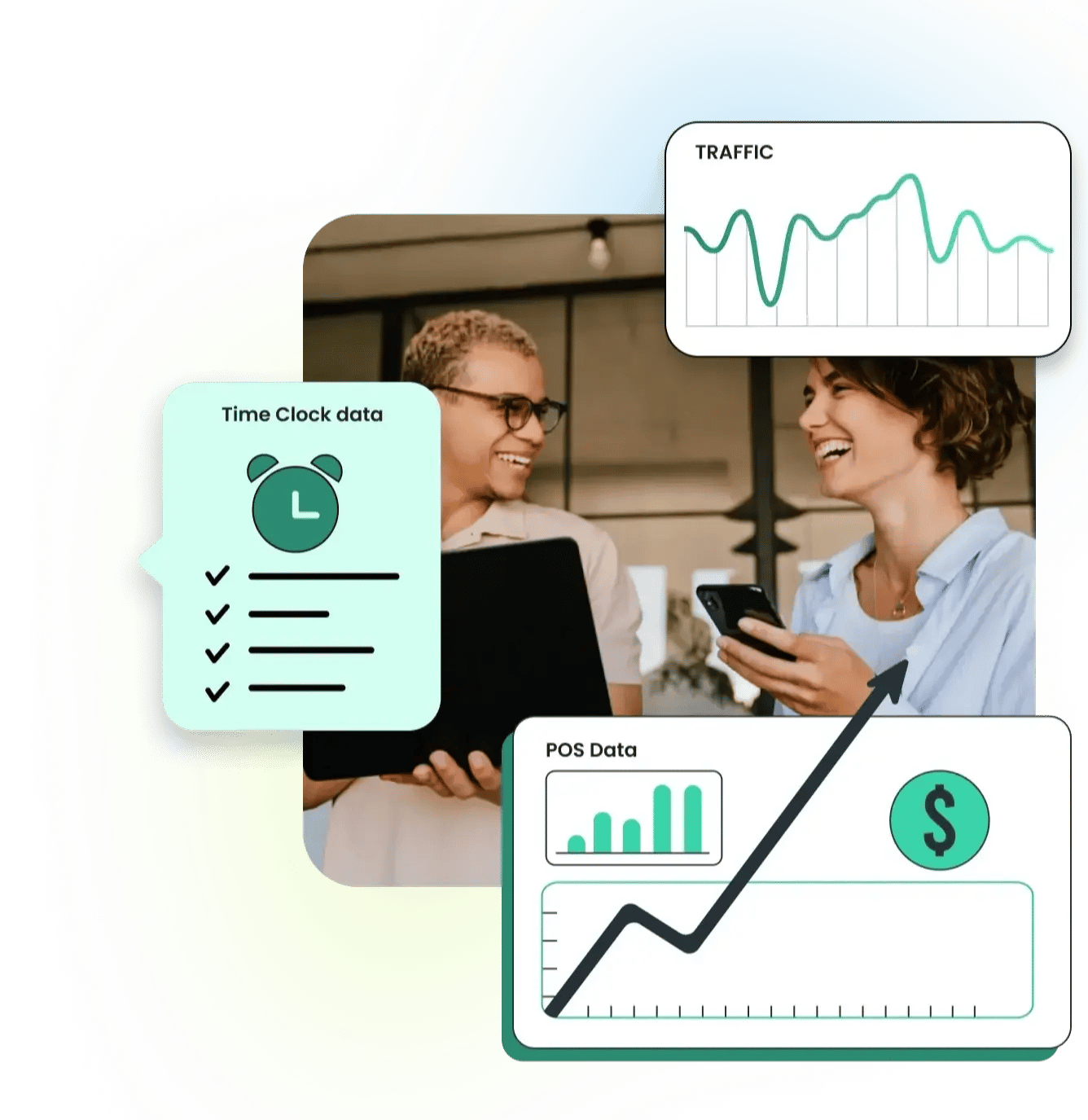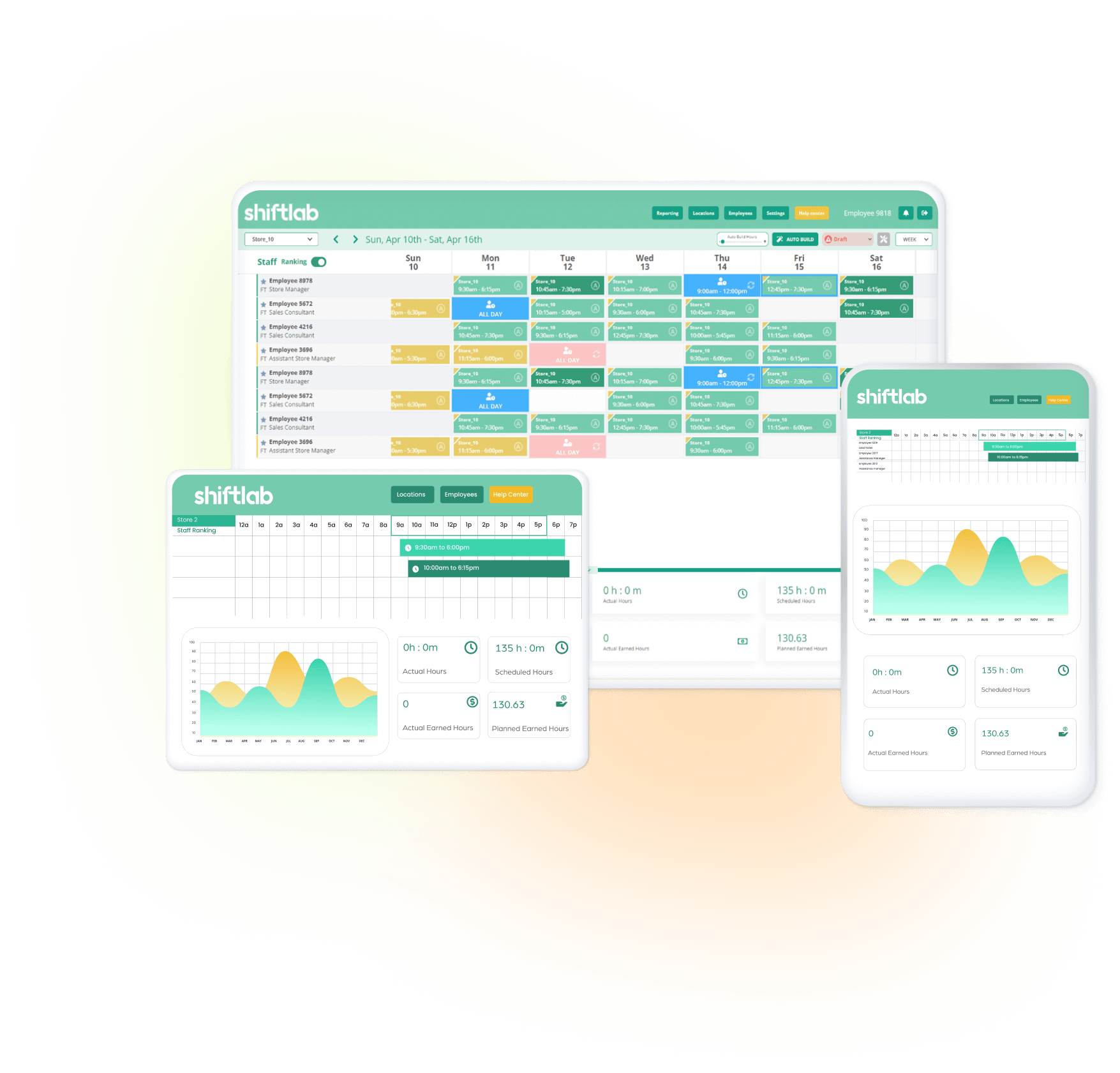 Your complete retail performance platform
Automated Scheduling
Ai-Driven Forecasting
Smart Timeclock
Real-Time Performance Data
Schedule Your Free Demo