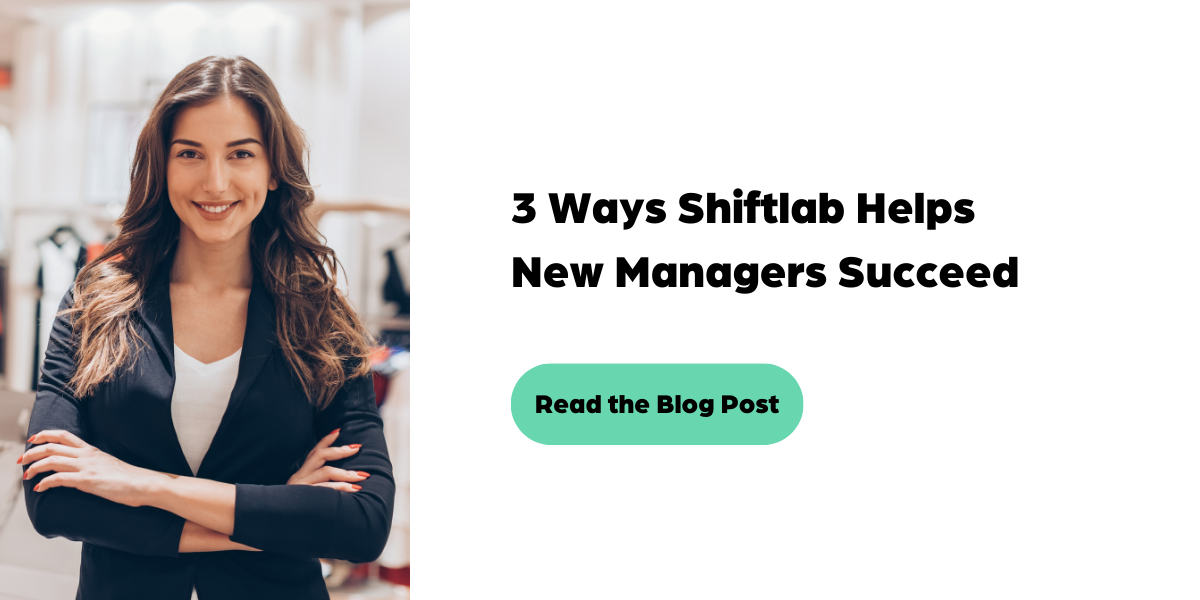 3 Ways Shiftlab Helps New Managers Succeed
According to a recent article by Harvard Business Review, 40% of frontline managers are new to the role.
Unfilled jobs and staff shortages have resulted in managers being promoted sooner than under normal circumstances.
What can you do to make the transition for new managers easier?
One of the core responsibilities of a manager is to create employee schedules. This can be a complex and time-consuming task, even for experienced managers.
Here are a few ways Shiftlab's data-driven workforce management platform helps new managers excel:
1) Schedule Automation
Ramp new managers up faster with Shiftlab's Scheduling Automation. With the click of a button, managers can create schedules that are both optimized and compliant. Spending minutes rather than hours each week on scheduling gives managers more time to recruit, train and mentor new staff.
How Does Scheduling Automation Work?
Shiftlab's AI-driven forecasting engine uses historic sales data, recent trends and event effects to accurately predict the labor demand for each location down to the hour.
We then use your real-time point of sale and time and attendance data to identify top performers and place them in prime shifts.
Shiftlab's Automated Scheduling intelligently matches employee preferences to your labor needs with a 98% success rate.

2) Mobile app for streamlined communication
When it comes to reaching hourly employees off the clock, managers are faced with limited communication options: calling, emailing, or texting. If a manager has to reach 10+ associates, that can quickly become a time-consuming task. Shiftlab's mobile app helps to streamline communication, by alerting staff when new schedules are posted or when a schedule changes.
Managers can also use the app to create schedules, make schedule changes and check in on store and district performance while on the go.
3) Instant Insight and Visibility
Shiftlab provides easy-to-read Dashboards that enable managers to quickly identify how they are performing around KPIs like sales and gross profit per hour and helps them to stay within labor budgets set by corporate.
Custom views keep managers and corporate on the same page and empower managers to assess the effectiveness of scheduling decisions. Managers can also use Shiftlab to quickly identify mentorship and training opportunities within their team.
Retailers of all sizes rely on their managers to make the company a success. Providing new managers with the tools to succeed and supporting them as they integrate into their new roles is a win-win.
Leverage Shiftlab's WFM Platform to empower your managers. Book a Demo Today.