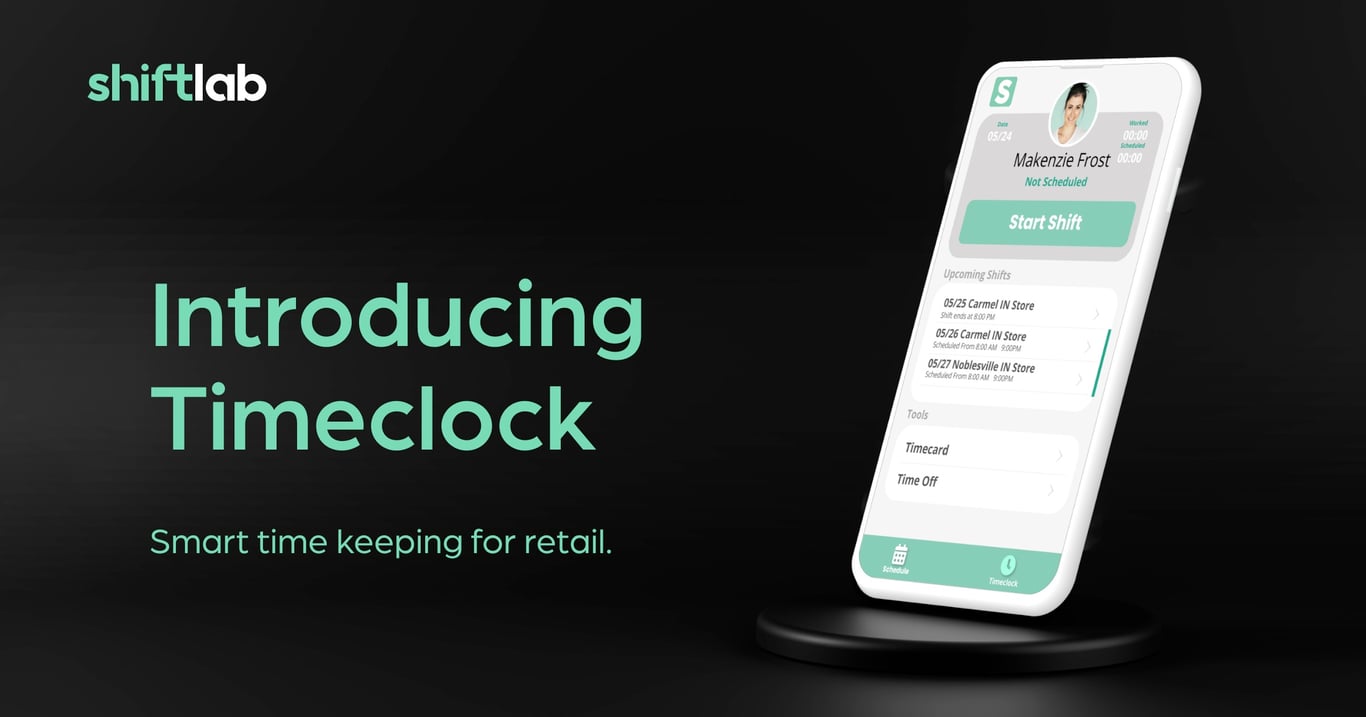 Introducing Shiftlab Timeclock: Smart Timekeeping for Retail
Streamline payroll and decrease labor costs with Shiftlab's new Time and Attendance Solution
In retail, every percentage point counts and employee time tracking is an important element in managing labor costs effectively.

"The top frustrations we've heard from retailers in 2022, next to hiring, are around time tracking", says Devin Shrake, CEO of Shiftlab. "For example, 10% of wireless retail shifts have employees clocking in early by 15 minutes or more. That adds a lot of unbudgeted labor hours every month and really hurts a retailer's bottom line", adds Shrake. "Shiftlab's new timeclock solution solves for this with an early clock-in prevention feature.
Punch revisions are another major headache for telecom retailers. "Our analysis shows that 4% of shifts require a punch revision, which means a District Manager and an HR rep are both having to spend time chasing down punches every month", says Devin. "Our timeclock solution automates this process for retailers, saving DMs and HR Managers hours every week," adds Devin.
Integrated with our leading Scheduling platform, Shiftlab's Time Clocking solution will enable retailers to easily keep track of their teams' time and attendance, save on labor and streamline payroll.
Automated Punch Corrections
Team members forget to punch out? No problem. Don't wait until payroll to revise punches. Shiftlab automates punch corrections to cut back unbudgeted labor hours and ensure payroll is easy.
Early Clock-In Prevention
Employees can only clock in when their shift is scheduled to start, saving you from paying for unbudgeted labor hours.

Biometrics Integration
Use biometrics log-in to prevent buddy punching and ensure your team is at the right location for their shift.
Sync timesheets with your payroll system
Connect Shiftlab with your payroll software to save time and reduce costly payroll errors.
Real-Time Feedback and Visibility
Give retail leaders real-time notifications on store openings, trending OT, missed punches and breaks.
With Shiftlab Timeclock in place, retailers will:
Reduce Payroll Prep by up to 90%

Save DMs and HR reps hours every week

Cut unbudgeted labor hours