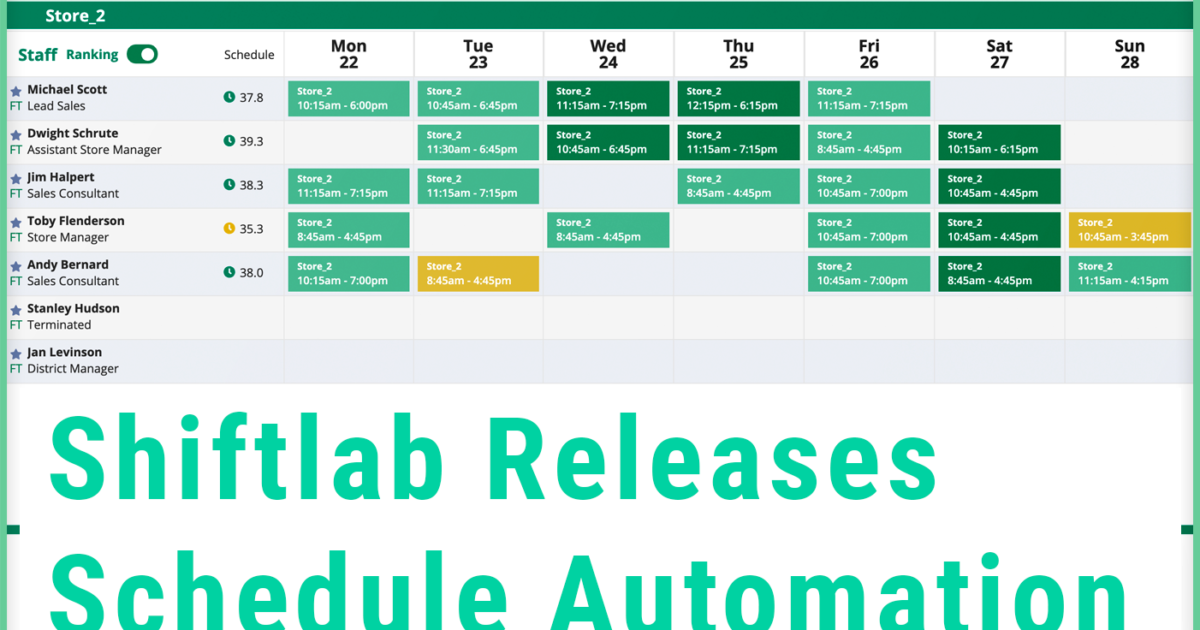 Shiftlab Launches Innovative Product to Automate Retail Employee Scheduling
CARMEL, IND. – Shiftlab announces the launch of its innovative technology to solve one of the main pain points for wireless retailers. The company's newly-released Schedule Automation combines a company's employee settings with Shiftlab's predictive technology to automatically generate a staffing schedule focused on maximizing sales and optimizing labor.
"This new feature will be a game changer for the wireless retail industry and position us for growth in new market verticals where sales performance matters," said Shiftlab CEO Mitch Black. "This technology is desperately needed by retailers right now. The COVID-19 pandemic is causing unexpected staff fluctuations that can be easily addressed with automation and Shiftlab's smart scheduling."
The Carmel, Indiana based Software-as-a-Service (SaaS) company is focused on performance-based scheduling and labor optimization, utilizing a machine-learning product to help retailers execute their labor strategies as efficiently as possible while maximizing the potential of each employee's sales and operational strengths.
"With Schedule Automation, retailers can replicate the scheduling practices of their best managers," said Shiftlab Co-Founder Devin Shrake. "Shiftlab automatically builds schedules that maximize positioning for sales, while optimizing labor costs. Retailers commonly build schedules without any generic estimates on what sales are ahead. Shiftlab forecasts their business with more than 97 percent accuracy to empower organizations to scale strategic scheduling and ROI throughout all of their retail locations."
The technology will be available to view this week when Shrake demonstrates Schedule Automation with Shiftlab's partner, iQmetrix, on Wednesday, February 17, at 11 a.m. EST.
Free registration for this event is now open: https://hubs.la/H0GBgl70
About Shiftlab
Shiftlab is a SaaS company that offers a scalable workforce optimization platform designed for retail sales organizations to maximize performance and employee engagement while reducing labor costs. Unlike other companies who provide a generic calendar and no performance or reporting metrics, Shiftlab combines real-time performance metrics, data parameters and predictive algorithms, so companies more effectively forecast and schedule better than ever. From large enterprises to small businesses, Shiftlab's adaptive technology can be customized to drive your workforce forward. The company is headquartered in Carmel, Indiana. To learn more, visit shiftlab.io
Notifications