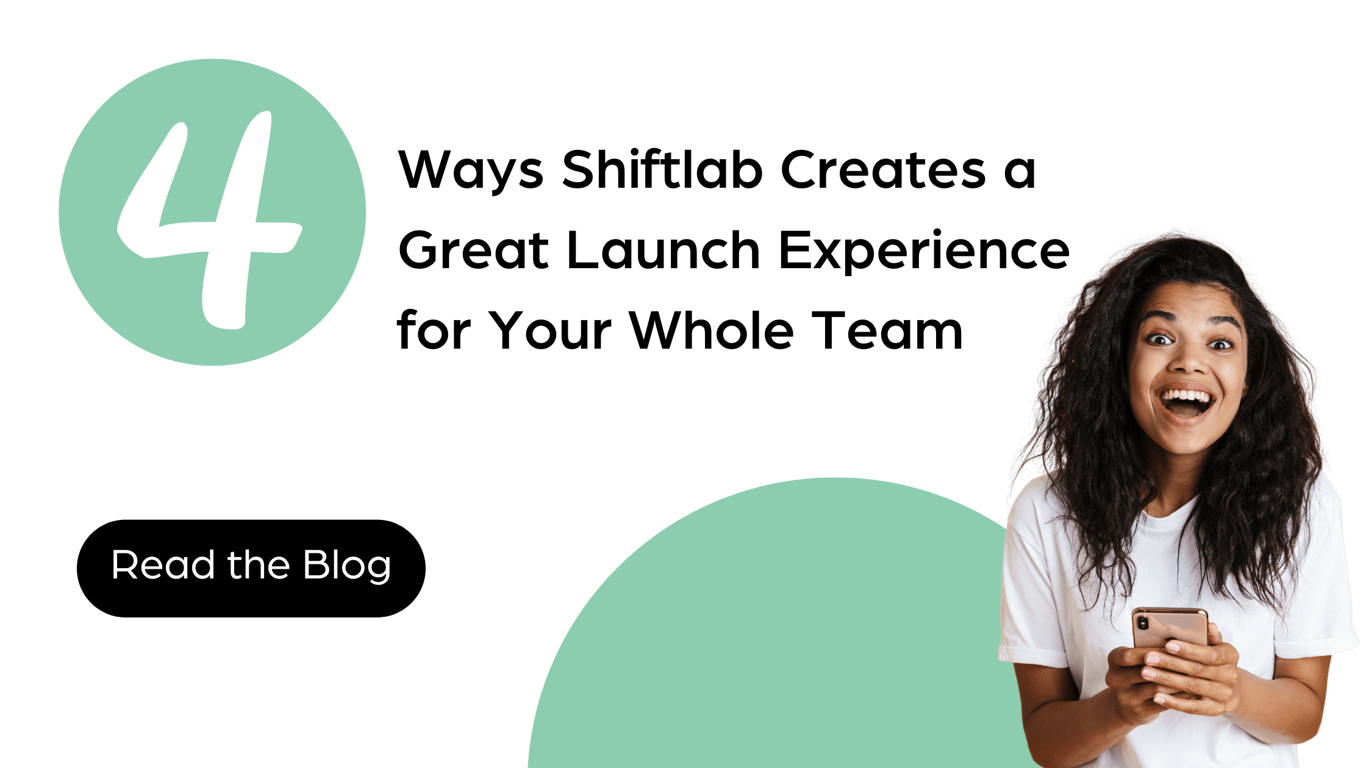 4 Ways Shiftlab Creates a Great Launch Experience for your Whole Team
You've done your research in choosing a new employee scheduling solution and just completed a successful trial. Now it's time to roll it out to your team!
We'll be with you every step of the way to ensure a successful launch. Here are 4 things we do to make sure implementation is a great experience for your whole team:
1) Role-Based Training and Communication
Before launch, we'll start by asking your leaders specific questions to understand your company's vision, goals and current challenges when it comes to labor planning and scheduling. We'll get you to walk us through how scheduling is currently being handled and the impact on different roles including DMs, Store Managers and Employees.
With this information, we'll highlight the specific ways Shiftlab will help each role in your company. For example, if your managers currently spend a lot of time creating and tweaking schedules each week, we'll show them how they can use Shiftlab to create optimized schedules with one click.
Our e-learning and support platform features role-based user guides and resources for leaders, managers and employees to make the transition easy.
2) Turn District Managers into Ambassadors
An important step to successful company-wide adoption of Shiftlab is involving your district leaders. If your DMs become early adopters, they're much likelier to become avid change ambassadors.
Introduce them to the new solution early on and be transparent as to why you are switching. Share your trial results to show actual examples of how the new tool will help their team work smarter, not harder.
One of the launch initiatives we saw in a recent rollout (across 190 locations) that had a huge impact was having a district manager record a testimonial video that was then shared internally to get other managers and employees excited about Shiftlab.
3) Schedule Kick-Off Calls for Managers
We'll work with you to schedule a series of kick-off calls to introduce Shiftlab to managers and train them on creating strategic schedules. We've found that incorporating live training opportunities as part of the agenda is an effective way to show how intuitive the platform is.
We'll call on a manager to take over the screen share, pull up the scheduling tool and automate a schedule. It's a great training opportunity and gives that person the ability to speak to the tool first-hand after the kick-off call.
As we build out the agenda for your kick-off call here's a FAQ guide for questions your team will likely have and that we'll incorporate into the training:
What is the purpose of this platform?

How does it work?

What are the benefits it will bring to our organization? Managers/retail staff/customers?

How will this impact my day-to-day tasks and responsibilities? (Based on role.)

What do I do if I experience an issue or need help?

What resources are available for additional training?

What is the launch day? What is required of me by this date?

Are there any goals or metrics I will be responsible for?






4)

Measure

Success
Now that Shiftlab is live and your team is using it, how is it performing? Shiftlab features a wide variety of performance reports, workforce analytics and dashboards so that you can measure your labor performance against your goals.
Shiftlab's built-in team views share critical labor data, key decision criteria, and performance indicators, that allow all levels of an organization to assess the effectiveness of scheduling decisions.
Historical views track what worked and what didn't, bringing transparency to your labor strategies while identifying opportunities for improvement.
On average, after implementing Shiftlab, our customers see:
4-6% Increase in Profitability per Employee

6% Reduction in Retail Staff Downtime

13% Increase in Guest Experience Scores
"The support from the Shiftlab team has been best in class since day one and they are willing to work with us to develop the program even further, to meet our business needs. I would highly recommend the Shiftlab platform to support your team scheduling." - Amy Beaulieu, Manager, Field Operations, The Mobile Shop
Rollout Scheduling Software with Shiftlab's

Team of Experts!
Built for retail

Seamless user experience

Launchable within weeks

Industry-leading solution

Continuous innovation and improvements

Unmatched support and strategic guidance